In the spring of 2020, the market for corporate laptops experienced an unprecedented boom – due to the pandemic and the massive transition to remote work, the demand for them increased ten times in two weeks. According to Acer, there are almost no laptops left in the largest distributors' warehouses in the USA. Moreover, the urgent transfer of employees from offices home within a few days led to the fact that there was a strong need for sufficiently rugged laptops: 8 gigabytes of RAM, an SSD of at least 256 GB, and a processor of at least an Intel Core i5 or AMD Ryzen 5 level. In this article, we will give you a complete guide about the best business laptop 2020.
Acer, in the near future, the deficit will only grow. Many companies are quickly rebuilding and organizing other systems at their enterprises' facilities, for example, a delivery system or a courier service. In addition, many have become more efficient in working with employees at home, and this opens up space for optimizing costs. An Acer representative estimates that about 30% of jobs can be left in offices.
Best Business Laptop 2020
Lenovo ThinkPad X1 Carbon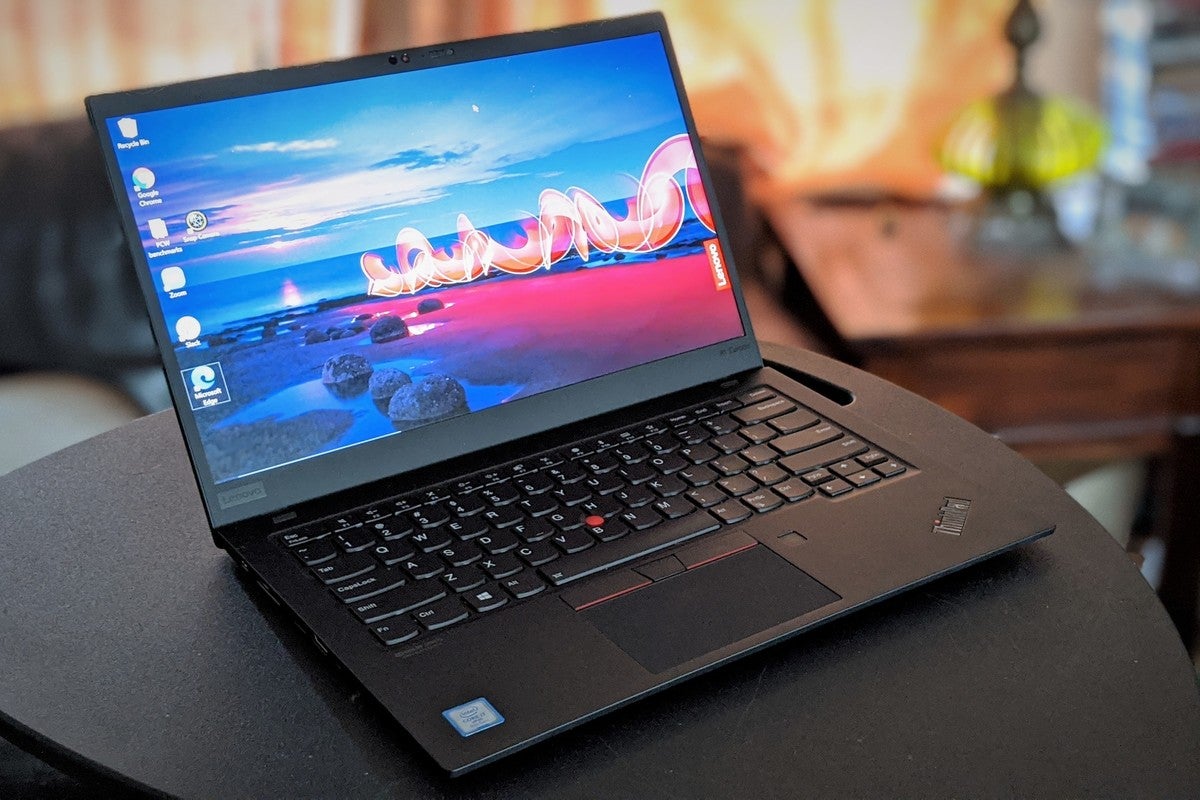 Unbreakable, secure, and lightweight laptop in the classic IBM / Lenovo design. Offers an excellent balance of performance and battery life (15 hours). Great for travel. Charging via USB-C. The Trackpoint will allow you to work comfortably in a car or on an airplane when your laptop is on your lap. Security measures include a fingerprint scanner, camera shutter, data encryption module, screen protector from photographing. The only frustrating thing is the lack of a LAN port. All the same, the quality of wi-fi in the office does not always correspond to this laptop's quality. So you have to use a USB-LAN adapter (crutch). Well, and one more drawback – Price $ 2200
Pros
+ fashion brand
+ thin and light
+ very reliable
+ charging via USB-C
+ autonomy
+ fast charging
+ Trackpoint
+ curtain on the webcam
Cons
– no LAN port
– no card reader
– Fn and Crtl buttons are swapped
– price
Parameters
Screen 14 "IPS (1920×1080) Full HD, matte / Intel Core i5-10210U / RAM 16 GB / SSD 512 GB / Intel UHD Graphics 620 / OP scanner / 2 x USB, 2 x USB-C / 51 W * h battery for 15 h / Windows 10 Pro / 1.21 kg (323 x 217 x 15.4 mm)
Best Business Laptop 2020: HP EliteBook 840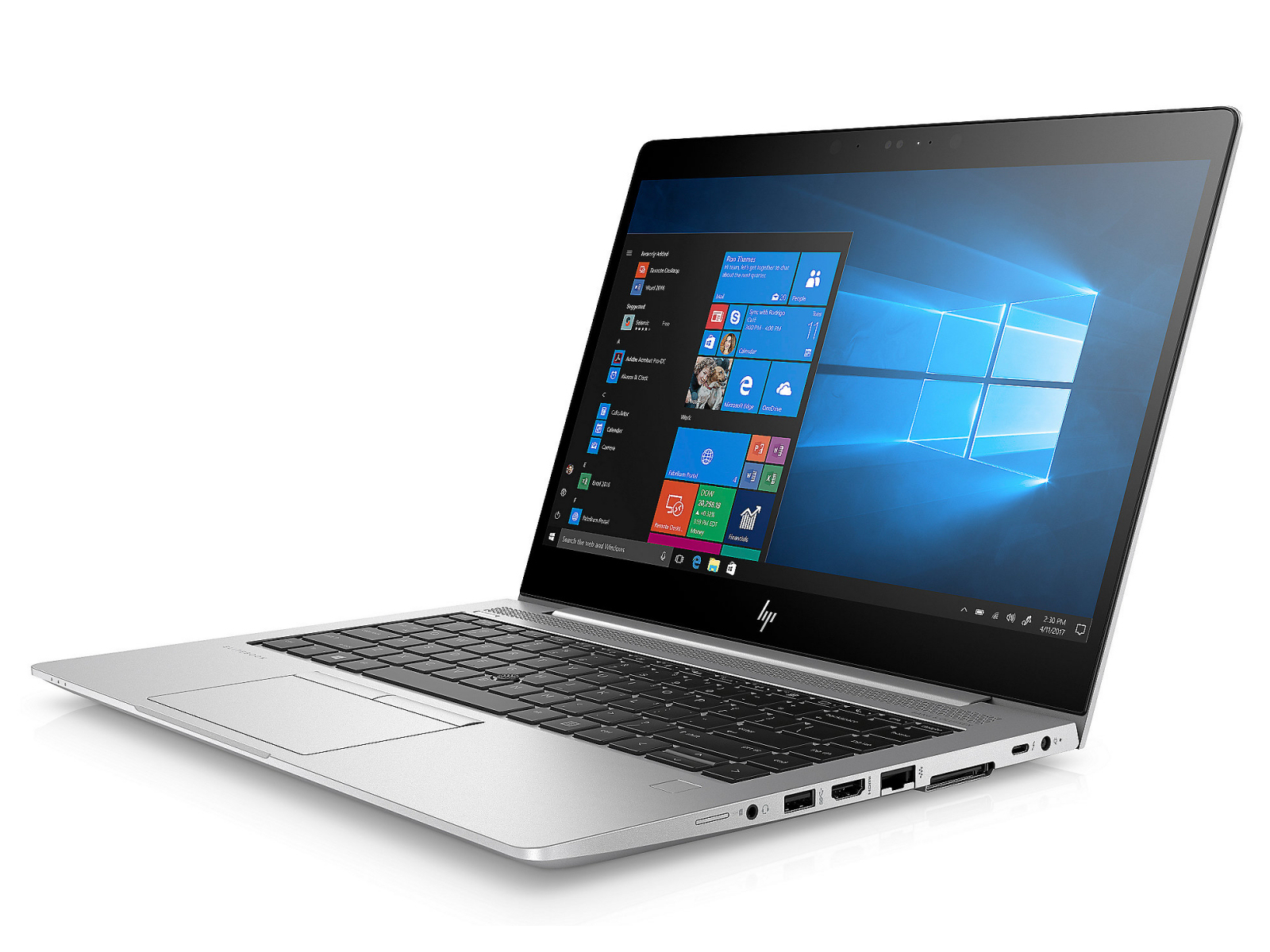 The business laptop that wins in the class. High-quality, elegant, well-thought-out design, compact, reliable body. The keyboard is backlit and even a Trackpoint. But there is a complaint about the extra column of keys on the right. As usual, HP pays great attention to safety. Even a shutter for the camera was provided. So, the processor of the previous generation, but top-end, and in combination with 16 GB of RAM – it is enough for office tasks and resource-intensive special tasks. The dock connector makes it clear to others that this is not a toy, but a whole workstation. Price $ 1600.
Pros
+ beautiful, stylish
+ reliable, safe
+ webcam shutter
+ Trackpoint
Cons
– extra row of buttons on the right of the keyboard
– price with overpayment for the brand
Parameters
Screen 14 "IPS (1920×1080) Full HD, matte / Intel Core i7-8565U (1.8 – 4.6 GHz) / RAM 16 GB / SSD 512 GB / Intel UHD Graphics 620 / OP scanner / LAN / 2 x USB 3.1, 1 x USB-C (Thunderbolt) / Windows 10 Pro 64bit / 1.48 kg (326 x 234.3 x 17.9 mm) / 50 W * h battery
Best Business Laptop 2020: Dell Latitude 5400 LTE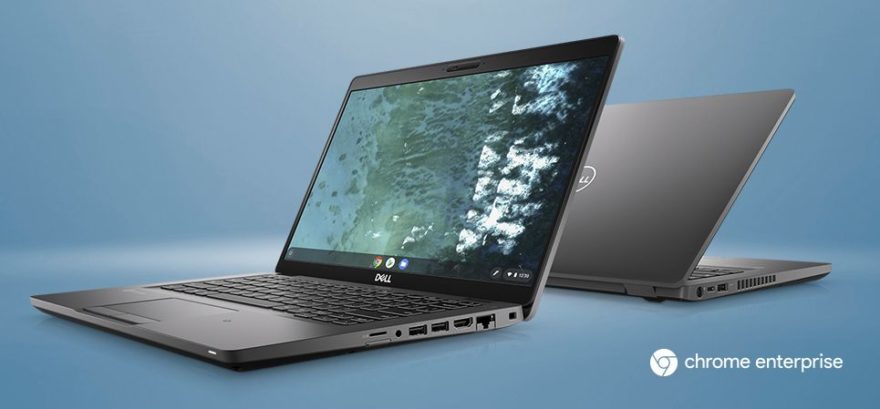 This laptop may lack external gloss and isn't super-thin, but it's a workhorse that's easy to use and well priced. Perhaps this is the only laptop that we sell with an LTE module. Has a full range of ports, including LAN. Comfortable classic keyboard and touchpad. A capacious battery that charges up to 80% in just an hour. So, using Dell Power Manager, you can tune the optimal balance between battery consumption and performance. The fingerprint scanner is conveniently integrated into the power button. Price $ 1260
Pros
+ LTE
+ excellent battery
+ fingerprint scanner on the power button
+ shutter on the webcam
Cons
– previous generation processor
– not very bright
– not very thin and light
Parameters
Display 14 "WVA (1920×1080) Full HD, matte / Intel Core i5-8265U (1.6 – 3.9 GHz) / RAM 16 GB / SSD 256 GB / Intel UHD Graphics 620/3 x USB 3.1 Gen1 (one with PowerShare), 1 x USB 3.1 Type-C / LAN / 68 W * h battery / LTE / 1.6 kg (323 x 216 x 19.6 mm) / Windows 10 Pro 64bit
Best Business Laptop 2020: Acer Swift 3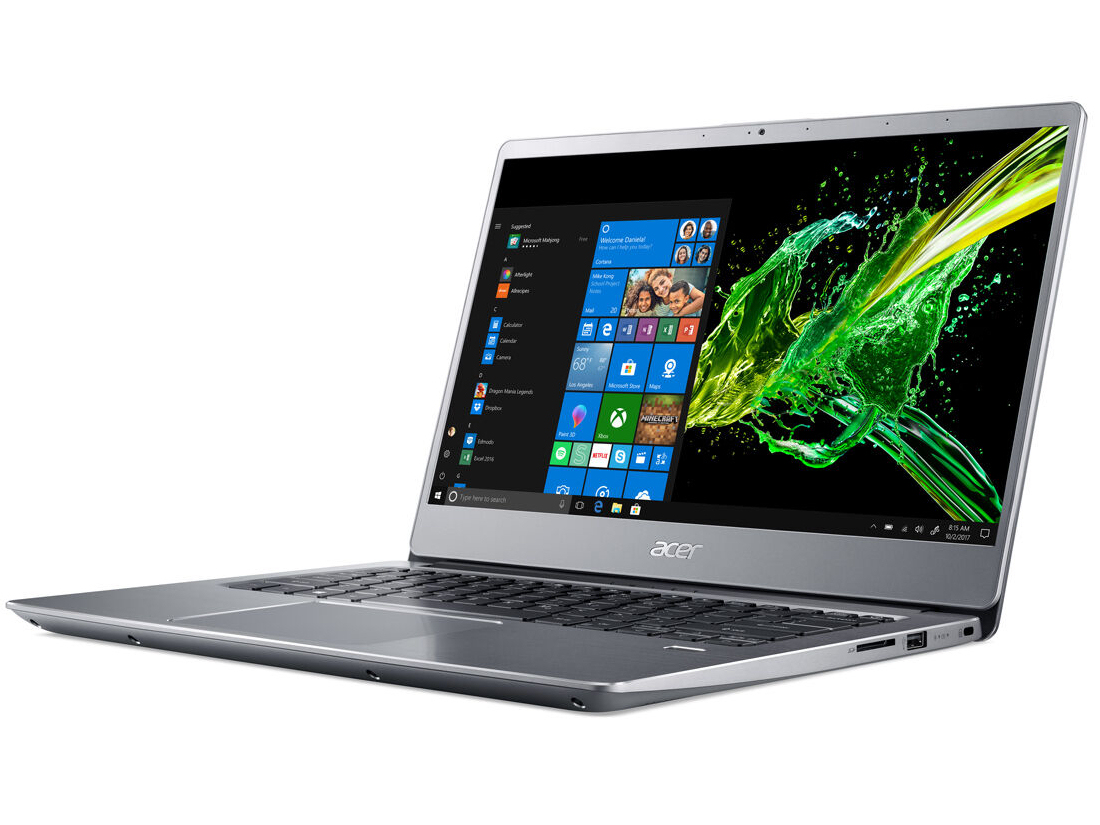 Acer won the race for laptop thinness, but does it make a lot of sense? Perhaps it is better to have a LAN port, a card reader, more USB ports instead of a few mm in thickness. Nevertheless, this model benefits from a compact design, a solid body, a comfortable keyboard (except for the power button), and high performance at an affordable price. The laptop hardly makes any noise, but, apparently, therefore, it heats up more. It can be charged via USB-C, but not with any AC adapter. Price $ 1100
Pros
+ Very light and compact
+ good built-in graphics
+ charging via USB-C
+ almost no noise
+ price
Cons
– no LAN port
– no card reader
– warming up
– power button on the main keyboard
– poor sound
Parameters
Screen 14 "IPS (1920×1080) Full HD, matte / Intel Core i7-1065G7 (1.3 – 3.9 GHz) / RAM 16 GB / SSD 512 GB / Nvidia GeForce MX250, 2 GB / OP scanner / 1 x USB-C, 2 x USB / 1.19 kg (319.5 x 217 x 16 mm) / 56 W * h battery for 11 hours / Windows 10 Home
Microsoft Surface Laptop 3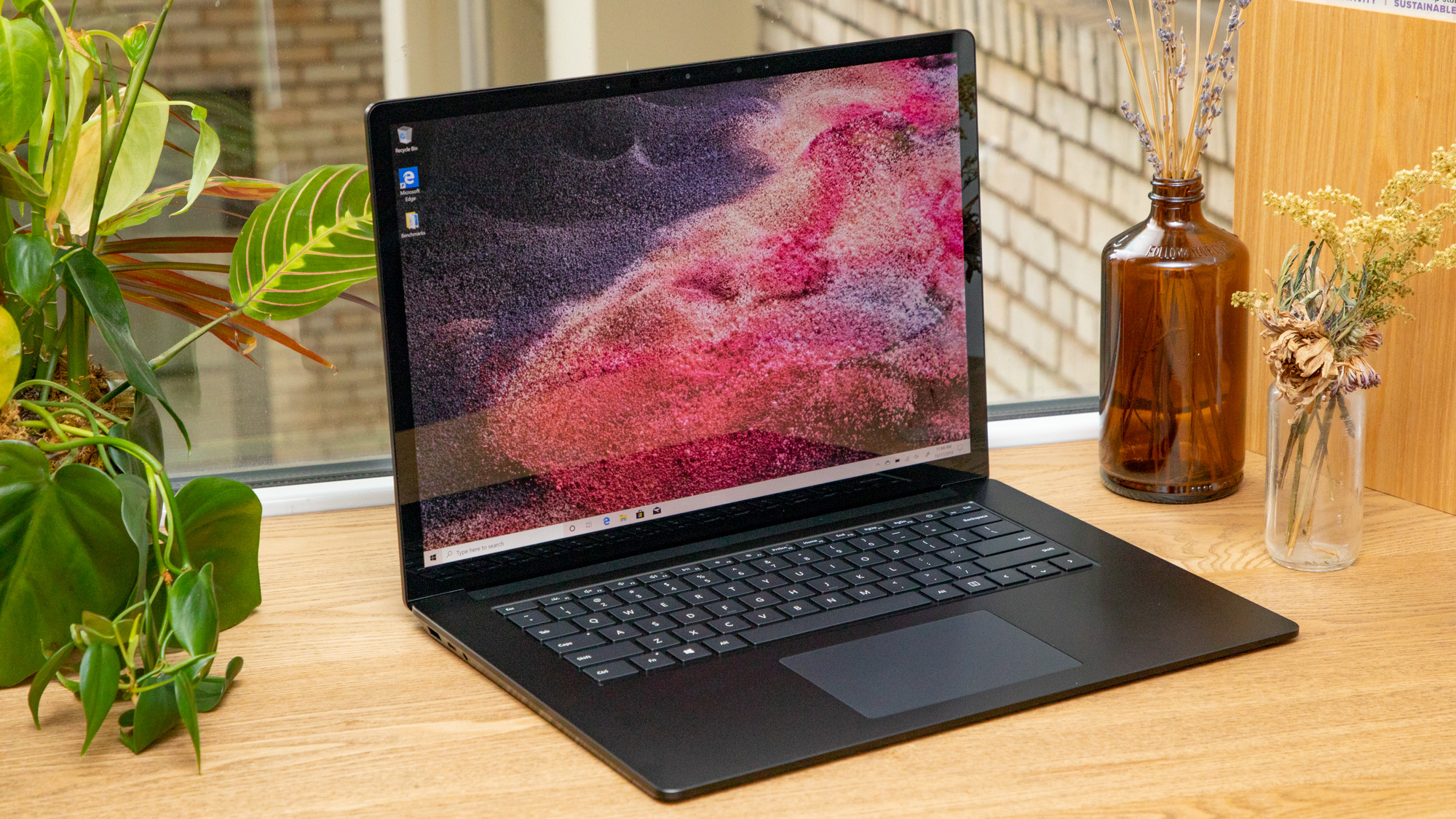 Microsoft laptops are fashion accessories (perhaps even more fashionable than Macs). In addition, this laptop deserves praise for its compactness, lightness, safety, and high performance. The screen size of 13.5 "is optimal for many. It's a pity that it is glossy. But minimalism with regard to USB ports is too ahead of its time. But proprietary charging (albeit magnetic) for such a laptop is an anachronism. A touchscreen significantly increases the cost and reduces autonomy. Price $ 1400
Pros
+ fashion
+ compact and lightweight
+ high performance
+ build quality and materials
Cons
– glossy screen
– few USB ports
– no fingerprint scanner
– no LAN port
– proprietary charging
– power button in the main keyboard
Parameters
Screen 13.5 "IPS (2256×1504), glossy, Multitouch / Intel Core i7-1065G7 (1.3 – 3.9 GHz) / RAM 16 GB / SSD 256 GB / Intel Iris Plus Graphics / 1 x USB 3.1, 1 x USB 3.1 Type-C / 11.5 hr / 1.288 kg battery (308 x 223 x 14.5 mm) / Windows 10 Home
HP Unveils Chromebook Enterprise Service
Firstly, the suite of Products and ServicesHP Chromebook Enterprise x360 14E G1 Convertible Notebook, HP Chromebox Enterprise G2 Desktop, and HP Chromebook Enterprise 14A G5 Notebook, and HP Device as a Service (DaaS), which offers advanced multi-operating system support and includes Chrome Enterprise devices. So, HP DaaS provides IT professionals with up-to-date information about their HP Chrome Enterprise devices, including hardware and SMART battery health, security compliance, and warranty status. In addition, IT professionals will be able to conduct an inventory of the entire hardware fleet outside of HP Chrome Enterprise, obtaining information about devices regardless of their OS or manufacturer.
Microsoft Surface Laptop over MacBook
Microsoft has published a commercial for the Surface Laptop 2. In the video, a guy named Mackenzie "Mac" Book talks about the device's advantages over the MacBook: longer battery life, faster performance, and a touchscreen. Let's add that the Surface Laptop 2 is cheaper.
Huawei launched the first Honor-branded laptop.
Huawei launched its first Honor-branded laptop. The Honor MagicBook has a 14-inch display that occupies 81% of the laptop's lid area. In other words, to protect the eyes and reduce fatigue for users who spend a long time at the computer, the display is equipped with an anti-reflective coating and filters out the harmful ultraviolet component of the screen backlight spectrum. So, honor MagicBook is available in two versions: the first received an Intel Core i5-8250U chip (eighth generation), the second is equipped with a new generation AMD Ryzen 5 2500U quad-core processor.
According to the retailer Svyaznoy | Euroset, in the first quarter of 2019, Russians purchased 479 thousand laptops, which is 10% less than in the same period last year. However, buyers began to choose more expensive laptops – the average cost of a purchased laptop was 38.1 thousand rubles at the end of the quarter, showing annual growth of 10%. So, the market leader is HP with a 22.8% share, Lenovo is in second place with a 22.3% market share, and Asus is in third with 22.2%. However, the top five are closed by Acer and Apple. In their case, the market share is 16.9% and 5.1%, respectively.
Lenovo Unveils ThinkPad P52
The Lenovo ThinkPad P52 is a 15.6-inch, 3840-by-2160 or 1920-by-1080 laptop with support for 8th Gen Intel Xeon processors, NVIDIA Quadro P3200 graphics, up to 128GB of DDR4 RAM, and up to 6TB of storage … Of course, this is not the thinnest and lightest device, it is merely the most powerful laptop of the company to date.
Lenovo has updated the line of notebooks IdeaPad.
The updated Lenovo IdeaPad family will include 14, 15.6, and 17-inch models with prices starting at $ 250 for the budget package and many times more for the top options. For example, for $ 250, you can buy the new IdeaPad 330 with a 15.6-inch display and a dual-core Intel Celeron N4000 Gemini Lake processor. However, a hefty surcharge, you can get an Intel Core i7-8750H Coffee Lake processor and NVIDIA GTX 1050 graphics.
Firstly, thin and light Lenovo IdeaPad 330S laptops can be equipped with 8th Gen Intel Core i7 processors and NVIDIA GeForce GTX 1050 graphics. So, the budget model with a diagonal of 14 inches will devastate your pocket is only $ 500. So, Lenovo IdeaPad 530S is a top-end solution with support for displays with a resolution of 2560 by 1440 pixels, 8th Gen Intel Core processors, NVIDIA GeForce MX130 and MX150 graphics, backlit keyboard, Harman Kardon speakers, and a fingerprint reader. The starting price is $ 800.
So, launches New Ultrabook Lenovo's European site has a new laptop, the IdeaPad 530S, and it looks like an updated version of the 14-inch IdeaPad 520S with a thinner chassis, bezels, more colors, and a couple of new options.
Best Business Laptop 2020: Microsoft introduced Windows
Regular Windows laptops run on X86 processors (from Intel and AMD). So, yesterday Microsoft and partners (HP and Asus) unveiled two Windows laptops (ENVY x2 and NovaGo, respectively) that run on ARM (Qualcomm Snapdragon) mobile processors typical to tablets and smartphones. What's the point of this? The fact is that these laptops can last up to 20 hours on a single charge, turn on instantly, and are always connected to the mobile Internet (even when they sleep). An observant observer will tell you that Microsoft already tried to release an ARM laptop (Surface RT) four years ago and failed. But there is a significant difference. So, only special applications from the Windows Store could be installed on Windows RT at that time. And on new laptops, you can install any Windows application.
Also Read: Realme 7 Pro Price
Anniversary Lenovo ThinkPad costs
It's been 25 years since the first ThinkPad was released. Since then, IBM has sold the brand to the Chinese giant Lenovo, and laptops have become thinner, lighter, and more powerful. But, there are Old Believers in this world who believe that not everything new is necessarily better. Therefore, the news that Lenovo is going to release an anniversary version of the laptop with retroelements in the design, the network took quite violently. After that, someone dreamed of a display with an aspect ratio of 4 to 3 or a keyboard with ThinkLight proprietary backlight (a lamp is built into the upper screen frame and illuminates the keyboard from above). In conclusion, well, we got something incomprehensible for $ 1899. Lenovo ThinkPad Anniversary Edition 25 features a 14-inch touchscreen display, Intel Core i7-7500U processor, NVIDIA GeForce 940MX graphics, 16GB RAM, 512GB SSD storage, fingerprint reader.
Also Read: Google Pixel Buds Price
Google Pixelbook
Firstly, the new Google Pixelbook is the first Chromebook transformer to support the Google Assistant voice assistant and stylus. So, in the maximum configuration, the novelty can be equipped with Intel Core i7 processors, 16 GB of RAM, and 512 GB storage. In other words, Well, for a starting $ 999, you get a model with a Core i5 processor, 8GB of RAM, and 128GB of internal storage. An additional $ 99 will have to pay for the proprietary Pixel Pen, which is made using Wacom technology.
The Google Pixelbook has a USB Type-C port that can be used to transfer data and charge the battery for up to 10 hours of use, and 15 minutes at a wall outlet is enough for another 2 hours. So, Chromebook got 12, 3-inch display with a resolution of 2400 x 1600 dots, aluminum housing, stereo speakers, four microphones, a backlit keyboard, 720p webcam, and 3.5 mm audio jack. Dimensions – 28.70 x 22.10 x 1.02 cm and weight – 1.09 kg.
Also Read: Microsoft Surface Laptop 3 Review